Whitbread
New member
Founding Member
Joined

Mar 19, 2018
Messages

1
Points

1
Hello folks, I operate a european and domestic diesel performance business in northern Michigan. I happened to spot a Roxor at my local powersports dealer today and took a good look at it. As an avid off road enthusiast (I have a VW TDI swapped Ford ranger setup for playing on the trails), I think it's awesome and about damn time something like this is sold in the USA.
I, along with many others I'm sure, would love to exceed 45mph and have a little more than 62hp. A modern 2.5L common rail direct injection turbo diesel should be able to make an easy 100-115hp without straining anything. The VW DI diesel are all 90-135hp from the factory and they're only 1.9L. So my question to the people here is how many would like a safe ecu tune for these that would increase the speed limiter to say 85mph and bump the power up to 100-110hp? Obviously, the manufacturer warranty would be voided, the vehicle would be for competition use only, not for use on public highways, and whatever other legal disclaimers need inserted.
Here's what are probably the first underhood shots of a Roxor
.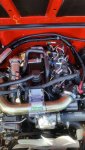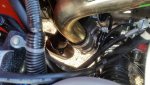 Last edited: