Administrator
Staff member
Joined

Mar 3, 2018
Messages

255
Points

43
Location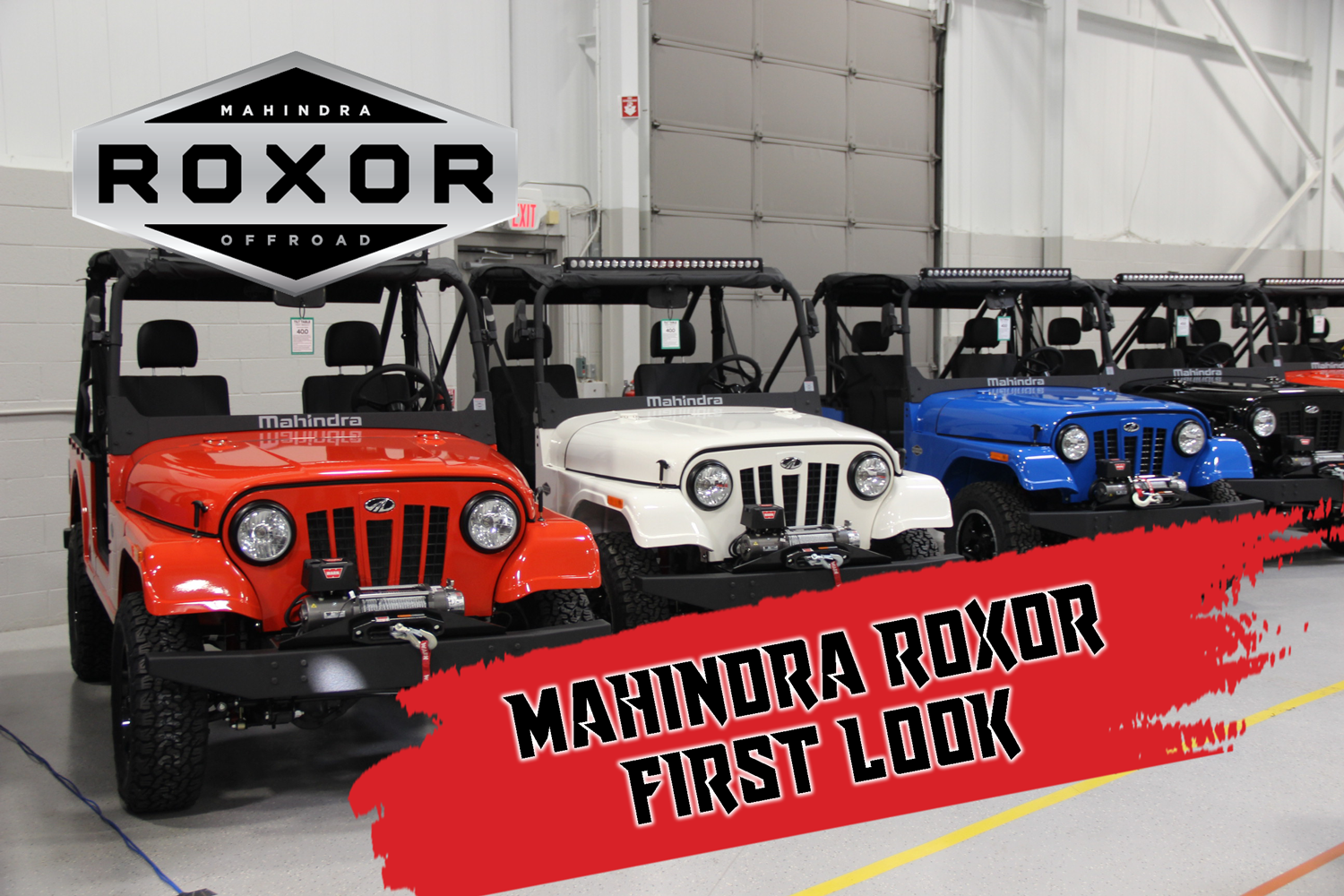 Mahindra ROXOR – Indian Giant in American Style
The Indian automobile company Mahindra has launched the new Mahindra Roxor in American market. ROXOR is an off-road SUV which is an upgraded version of the Indian Jeep Mahindra Thar and truly inspired by the iconic Willys Jeep CJ-7. But it has made major changes according to Mahindra. Mahindra Roxor is not road legal and, can only be used for recreational purposes on farm lands, selected trails, and selected county roads that have been assigned for off-road vehicles.
​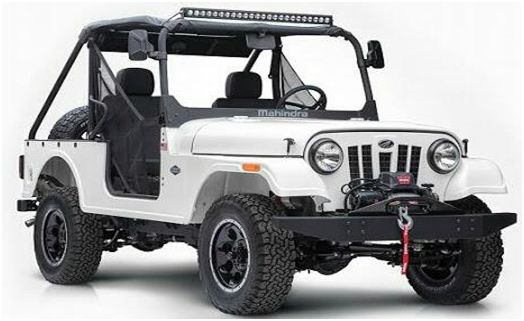 The new SUV called the Mahindra Roxor will be made at Mahindra's new Auburn Hills manufacturing facility near Detroit, Michigan and will be available soon at a starting price of about $15,000. The two seater Mahindra Roxor will essentially be targeted to the side-by-side off-road vehicle segment in the United States. The Roxor will also be a more basic vehicle as compared to the Thar with no doors and no hard top roof minus the windscreen.
In terms of mechanical bits, the Mahindra Roxor features a 2.5-litre, 4-cylinder turbo diesel engine. The engine puts out a modest 62 hp. The Roxor of course is available in left hand drive as is the norm in the United States and features a manual gearbox along with a traditional manual four-wheel-drive shifter. The Roxor will be highly customizable and will offer a staggering 900 color options with only 4 to start! So here are few more details you need to know about this car.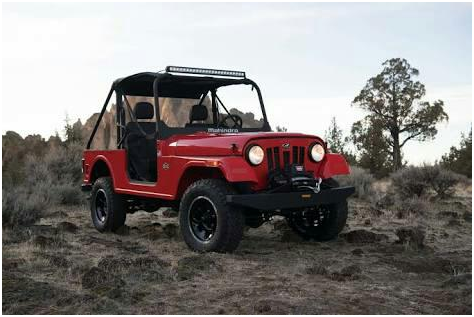 DIMENSIONS & CAPACITIES​
Wheelbase - 96"
Base Curb Weight - 3035 lbs
Length -148"
Width - 62"
Height - 75"
Ground Clearance - 9"
Fuel Capacity - 12 gallons
Rare payload capacity - 349 lbs
Towing capacity - 3490 lbs
Person capacity - 2
CHASSIS & SUSPENSION​
Chassis Type - Box Steel Frame
Front Suspension - Rigid Leaf Spring w/Stabilizer Bar
Rear Suspension - Leaf Spring w/Shock Absorbers
Shock Absorbers - Double Acting Hydraulic
FEATURES​
Steering - Hydraulic Power
Instrumentation - Single Gauge
Lighting / Headlights - Halogen
Battery - 72Ah / 12v
Alternator - 45 to 90 Amps
Power Port - 12v STD
Storage - 2 seat boxes
Tires - 235 / 70R16
ENGINE​
Type - Turbo Diesel m2DiCR
Cylinder - 4 - 4 Stroke Compression Ignition
Displacements - 2.5L / 152 cu. In.
Bore and stroke - 88.9 x 101.6mm
Power - 62 HP @ 3200 rpm
Torque - 144 ft lbs @ 1400-2200 rpm
Compressing Ratio - 18.6 : 1
Cooling system - Liquid
Fuel System - Direct Injection
Transmission - 5-Speed manual
Transfer Case - 2-Speed manual
Max speed - 45 MPH
Max Towing Speed - 15 MPH
BRAKES​
Dual Hydraulic Vac Assist - Standard
Parking Brake - Standard
Front Brakes - 9" Disc
Rear Brakes - 11" Drum
The Exterior Design :-
The Roxor has no doors, no large roof and no windscreen - all of which comes standard on the Thar. The Roxor instead has a traditional doorless design with a roll cage and a small canvas buttoned down roof to give very basic protection to the occupants. The Roxor also gets cloth side door panels which can be taken completely off. The body on the Roxor is polyurethane as compared to the steel body on the Thar. This of course makes it lighter and more durable. To add to the coolness quotient however, the Roxor comes with chunky off-road spec 16-inch steel rims or optional aluminum alloy wheels and off-road tires. The front grille is changed to avoid issues related to trademark and design with the cars produced by the Jeep in US.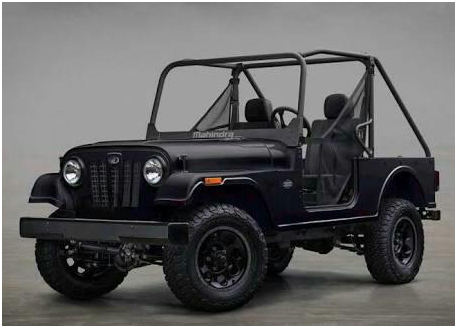 The interior design :-
You get a simple metal dashboard with one large dial in the center - just like the Jeeps of early years. There are no 'safety' features like airbags but the passenger does get a traditional grab handle to hold on to. The seats too are basic and look like they are made out of a material that can be hosed down after off road use. The only real creature comforts in this Roxor will be cup holders, which since the car will be sold in the United States, is an absolute must.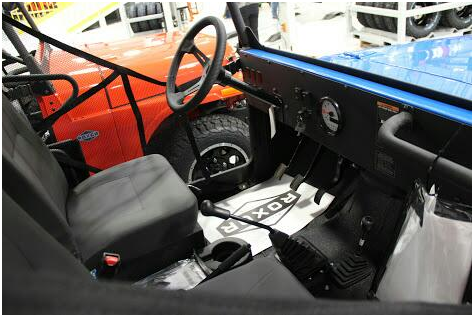 The Engine – Horsepower :-
The engine is mated to a 5-speed manual gearbox along with a traditional manual four-wheel-drive transfer case. The Mahindra Roxor gets a 2.5-litre M2DICR engine - with 62 bhp of peak power and 195 Nm of peak torque. The Roxor gets a four-wheel-drive low and a four-wheel-drive high ratio option that sends power to all four wheels via two solid axles. Both axles have an axle ratio of 3.73:1 which will help tractability of off-road trails. The Roxor also gets hydraulic power steering as standard.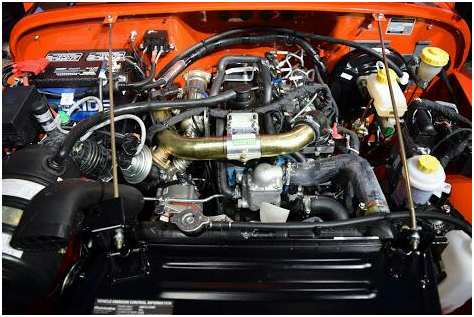 Customizations, Price and Availability in USA :-
Mahindra claims that the Roxor is available with 900 paint and color options - all of which can be done at a manufacturer level. The options include bright shades of gloss or matte paint, camouflage wraps and even a really cool Dune version with a sand shade paint job option. The Roxor also comes with a host of other add on accessories like off-road bumpers, winches, light bars, etc. In the future, Mahindra will also be adding the likes of work adaptations for farm use along with a Power Take-Off or PTO shaft adaptation that will be useful to attach farm equipment.
Prices are expected to be around the $15,000 price range for the base model with customized and optioned out models costing more depending on the equipment added to it.
Last edited: